Semen samples for fertility centres
Our semen bank, borne out by a wide experience, offers the assisted reproduction centres that require so, semen of all phenotypes and of proven quality.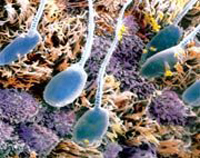 The semen coming from our donors can be indicated for the infertility treatment in several situations:
Heterosexual couples who totally lack ejaculated spermatozoids as well as in the testicle (azoospermia).
Single women or without a male couple.
Requirements to be a donor of semen:
Age between 18 and 36 years old.
Normal intellectual coefficient or a University degree.
Top quality semen regarding number, motility and morphology (seminal quality 3-4 times higher to what the World Health Organization considers as normal).
Semen can undergo the processes of freezing and defrosting.
Not to suffer any hereditary disease.
Not to suffer any transmissible infectious disease.
Spanish nationality.
The laboratory tests that are nowadays carried out at the initial study of the donor before accepting him are the following:
Analysis of at least two semen samples (including freezing-defrosting tests).
Blood group and Rh factor (standard that determines the selection of the donor considering the groups and Rh of the recipient couples along with their respective phenotypes).
Serological analysis that includes the determination of Hepatitis B, Hepatitis C, VHI kind 1 and 2 and Syphilis (RPR). This analysis is repeated on a periodical basis in order to carry out an exhaustive serological follow up of the male donor. Every frozen sample will be kept in quarantine at least six months since it was ejaculated before offering it.
Genetic tests: kariotype and analysis of the possible mutations for Cystic Fibrosis.